15 Snowboards Every Woman Wants - 2020 Snowboard Buyers Guide & Review
Featuring: Ambassador Stacy Pokrywka (scroll down to see what Stacy Recommends!) 
To find the best of the best 2019-20 women's snowboards we polled hundreds of women in our community to learn which snowboards women truly love, and what they most love about them. We then reviewed the snowboards and put together this list of top choices for each riding style. We hope to help you find a snowboard that helps you progress and meet all of your season goals. 
Top 5 Women's 2020 All-Mountain Snowboards
Because many women don't have the time or money to ride a different snowboard in every situation, every brand works to find a design that provides the ultimate balance between freestyle playfulness and freeride control. 
Lately, we've been preferring the all-mountain/park design - something that's designed to handle more of an aggressive carve than your average noodly jib board, but still keeps the fun factor that has you hitting wind lips and side hits on your way down the hill.   We love to see snowboards that retain their flexy fun while still being versatile enough for the steep and deep. These boards are selected with a more advanced rider in mind, so if you're just getting started, scroll down to our top boards for progression.  
2020 Burton Feelgood
Just right for:  A rider looking to get carvy on the groomers, or sendy on the jumps.  The traditional camber of this board helps it hold an edge like a champ, and can handle fast speeds, big airs and all sorts of good times. 
2020 Gnu Velvet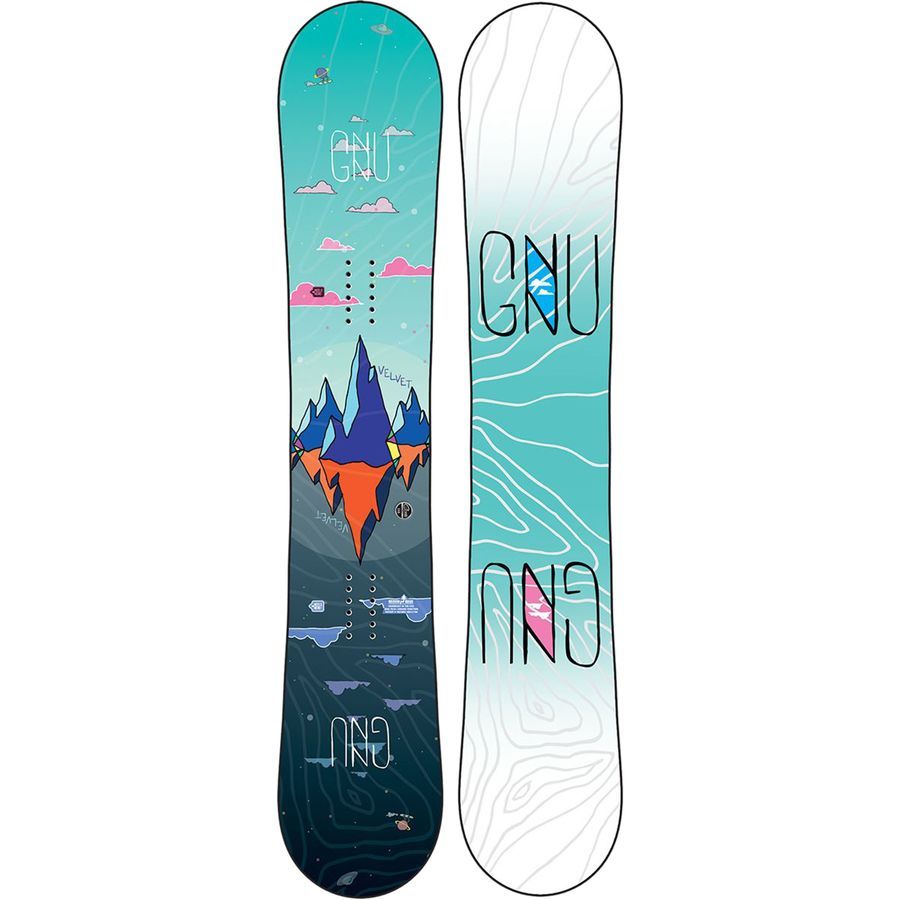 SHOP: 2020 Gnu Velvet
This Gnu all mountain board is designed with progression in mind, and is a favorite of ambassador Cassandra Beccavin, among others.  She says, "Whether you're riding in the Midwest on hard pack snow or ice to the Rockies with the powder it's an easy transition and it gives you great allover stability."  The medium flex and asymmetrical sidecut make it amazing for carving around the mountain, but still soft enough to play a little in the park. 
2020 Bataleon Feelbetter
With a medium-soft flex and Bataleon's Triple Base Technology, this board is made for the park.  Jibbers love the shaped triple base technology to lock in on rails and never catches, but the board retains enough pop and edge control to hit larger features or cruise the mountain.  The triple base also adds to powder float and pushes through cruddy conditions.  SheShreds  staffer Kelly Vance and ambassador Marina Sanchez both love this board.  Marina says, "It definitely slays in the park and is very forgiving, but don't deny it's versatility! Go from park to pow to corduroy effortlessly!"
Just right for: Intermediate/Advanced park riders who want a board that'll handle the whole mountain and go fast without getting chattery. 
2020 Jones Twin Sister
If freeride is your jam, but you want to hit those wind lips and log jibs with confidence, consider this super fun twin tip board.  This board has a medium-stiff flex, with camber underfoot and rocker at the tip and tail, so you can charge everything from powder to trees with confidence, but still have a little fun in the park.  Ambassador Jesse Graves says, "I feel really confident carving as it holds an edge so nice, it floats on powder, and I find it has loads of pop for hitting side hits or kickers."  Ambassador Roksane Hirschi also loves the board, and says, "With a freeride soul and freestyle shape it's perfect for both."
Just right for: An intermediate to advanced rider who loves wind lips and side hits - this board excels around the whole mountain, but has the freestyle shape that makes it great for getting styley on your powder runs and cornice drops. 
2020 Venture Oracle and Oracle Split
This small company out of Colorado is best known for building big mountain snowboards, great in the powder and steeps of their Silverton home.  The Oracle takes that technology into more of an all-mountain feel with a freestyle edge, featuring a softer, directional twin design.  Venture's camber profile features a powder-friendly rocker - flat between the feet, with a rocker twip and tail. 


Jen Jones says: 
The Oracle is amazing.  It's soft and playful and floats over powder!


Just right for: Big mountain focused riders who love to hit up the whole mountain, and backcountry riders looking for a splitboard that has a more playful side to it. 
Top 5 Women's 2020 Park Snowboards
Whether you're just starting out in the park, or working your way through more advanced skills, a snowboard that's designed with the park in mind can have a major impact on progression.  Our favorite women's freestyle snowboards often have a softer flex and a playful camber profile, making them fun for riders who take a playful approach to all-around riding, as well as riders who need a board that they'll primarily use in the terrain park. 
2020 Rome Heist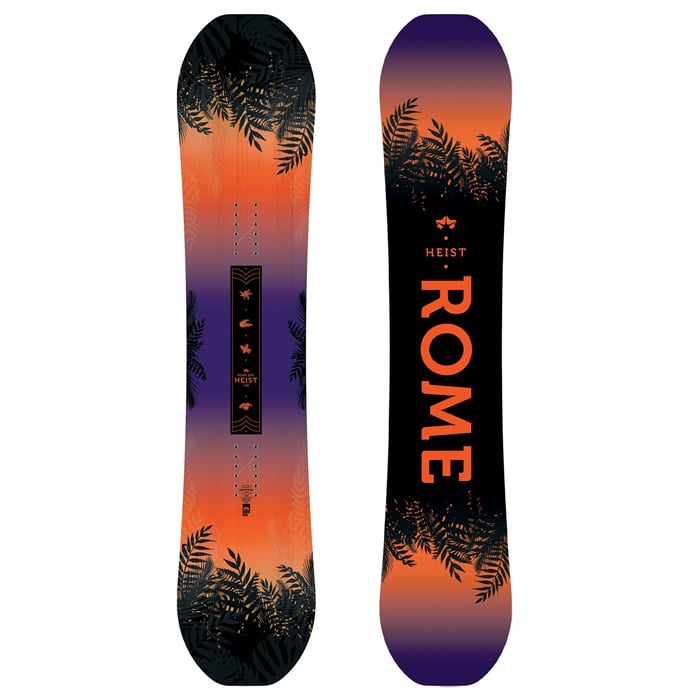 Rome Heist Snowboard - Women's 2020
Ambassadors Amanda Monge and Ashley Lutterbach both called out the Rome Heist as their favorite - Amanda says, "it's soft and fun in the park, and it's pushed my riding for the better. It's a little sloppy on jumps, I would want something stiffer, but for my daily tow park rider, this board wins. It's been just fine in the mountains and groomers, highly recommend."  The medium-soft flex and hybrid camber design make it great for fun and progression in the park, while still holding an edge well enough to explore the rest of the mountain.  
Just right for:  A rider looking for a board that's good for park progression, with a focus on jibs and small jumps, and the ability to explore the rest of the mountain as well.  This board can handle most terrain but wouldn't be our top pick for riders who prefer speed and stability. 
2020 Capita Space Metal Fantasy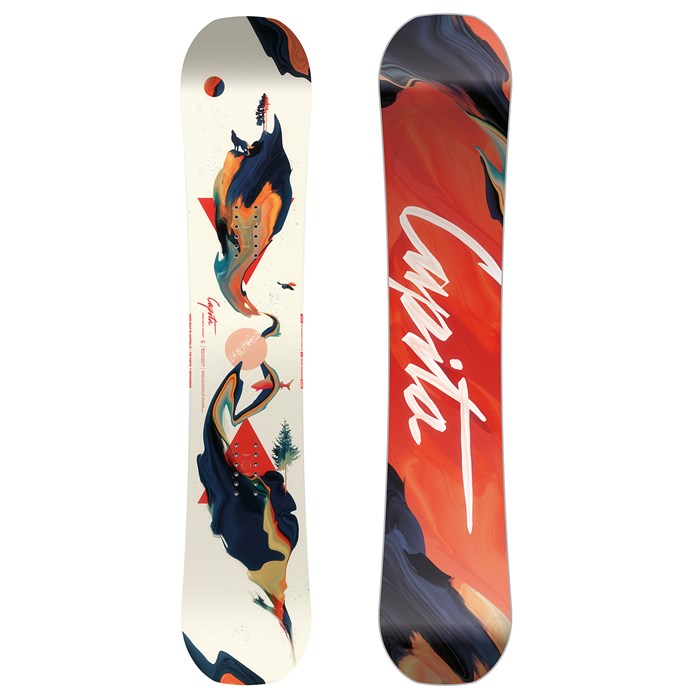 CAPiTA Space Metal Fantasy Snowboard - Women's 2020
Consistently on our list, this super fun park board gets props for being affordable while encouraging great park progression.  Ambassador Grace Hiljus says, "This board is absolutely perfect. I've learned so many tricks on it and rarely catch my edges. It is so light, flexy, and playful."  The flat rocker is blended with a medium-soft flex, which makes it playful and forgiving on rails, but not too noodly.  Allie Kadler says, "If you want a super buttery, playful park and pow stick, that's your board!"
Just right for:  A rider looking for an affordable jib stick made to progress their park riding, with an eye towards buttery fun. This board is fun around the mountain, and rocker profile handles powder quite well, but it wouldn't be our top pick for freeride.
2020 Never Summer Shade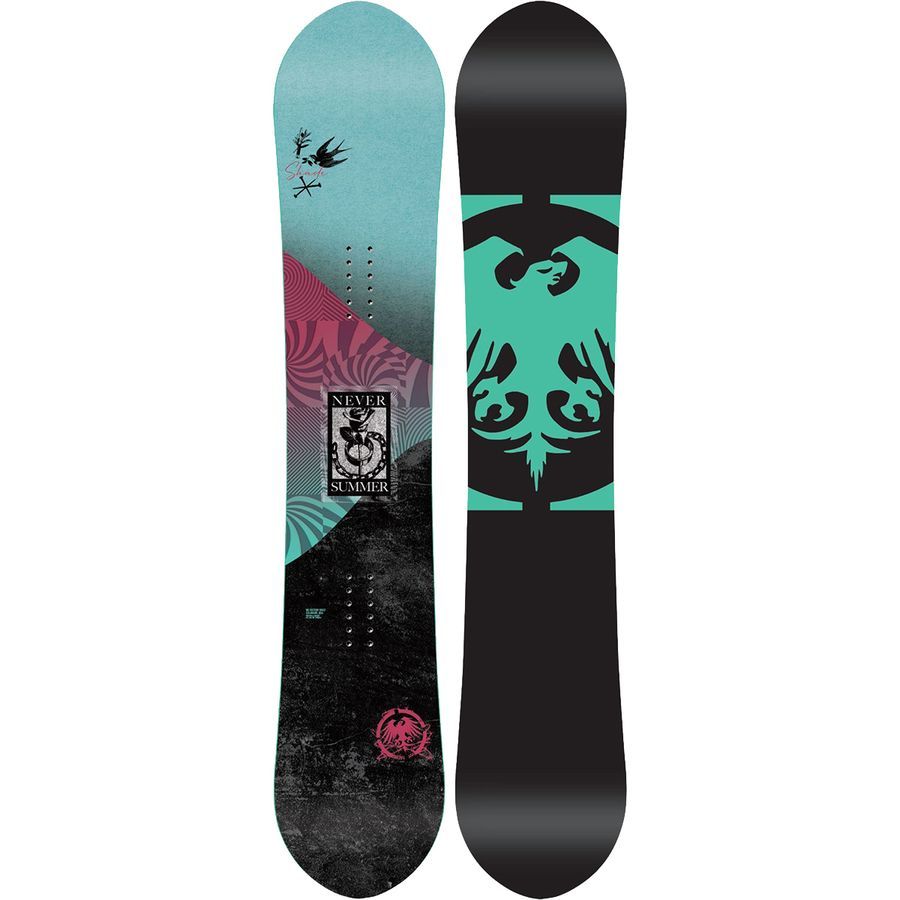 2020 Never Summer Shade Snowboard - Women's
New to the Never Summer Lineup this year is the Shade - this true twin park board has a soft flex and a great snap, plus a new shape that riders are loving.  Ambassador Brie Pepe says, "It's great!  Rails are great on it and the sturdiness of Never Summer allows it to be great on jumps too!  Carving on it is great too, once you get used to it!"  This snowboard has Never Summer's signature snappy, lightweight and damp feel, making everything in the park fun and comfortable, and Brie let us know that it has become her new go-to choice for shredding.  Ambassador Allie Huish says, "Never Summer boards are so insanely poppy and flexy I love them."
Just right for: Riders looking for a park board with more of a focus towards pop.  This board is decent all-mountain, but definitely shows that it's designed for the park, and the damp feel will make it comfortable at higher speeds than some of the more buttery park boards.  
2020 Niche Minx 
2020 Gnu Ladies Choice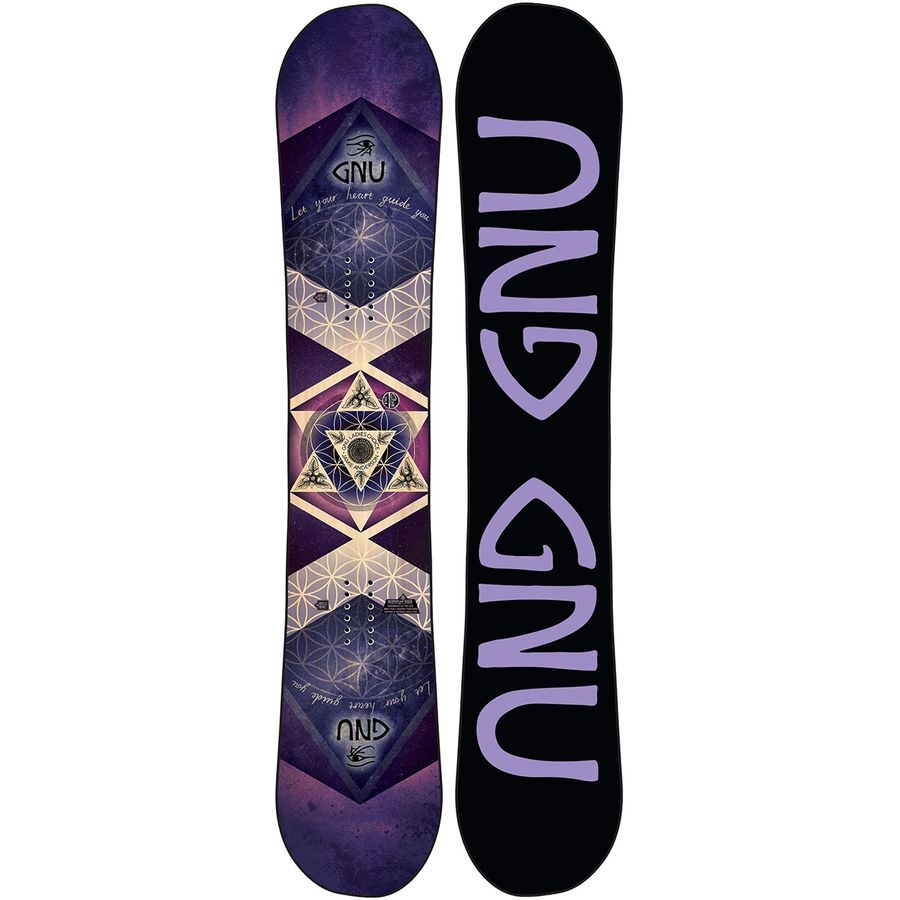 Gnu Ladies Choice Snowboard - Women's 
Another board that is consistently suggested by our ambassadors is Jamie Anderson's hard charging signature board.   Whether you're getting sendy in the park, or tackling freeride terrain, this board will put a smile on your face. The magne traction and aggressive C2 camber profile make it especially a favorite of riders who deal with a lot of icy conditions. The asymmetrical sidecut profile helps it to carve like a dream.  Courtney Black says, "I love the board because it allows me to be confident on the mountain and try new things. It's poppy when needed and just an overall fun board." Ntami Enang says,  "I've ridden this board in icy settings as well as groomers and backcountry, LOVE carving and doing jumps with this board!"
Just right for: Intermediate to advanced riders looking for a park side of a medium flex.  This board handles great on icy conditions, for our ice coast readers!  
5 Top Women's Freeride & Big Mountain Boards of 2019
Whether you prefer wide open powdery deepness, steep chutes or slashing through trees, big mountain snowboards have seen some major innovations over the past few years.  Here are our crew's picks for some great boards.  Pick your poison: surfy swallowtails, hard charging carve boards, or park inspired all-mountain freeride boards.
2020 Yes. Hel Yes



2020 Bataleon Love Powder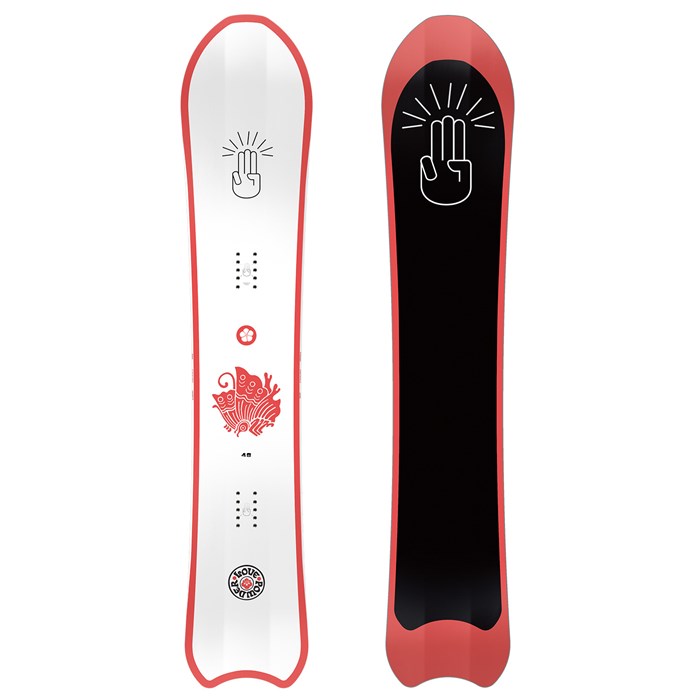 Bataleon Love Powder Snowboard - Women's 2020
The name says it all with this powder-specific board.  With a wider, tapered shape and a mini swallowtail,  plus Bataleon's Triple Base Tecnology, this board will have you floating powder with confidence, yet a tight enough turn radius to zip through trees.  This board has a medium flex and a mellower camber profile, making it forgiving enough for those who are just getting into powder riding, and fun all around the mountain for more advanced riders. 
Just right for: Someone who loves powder, of course!  If you're an intermediate to advanced rider looking for a powder specific board that's a lot of fun to ride, you'll be thrilled with this choice. 
2020 Salomon Pillow Talk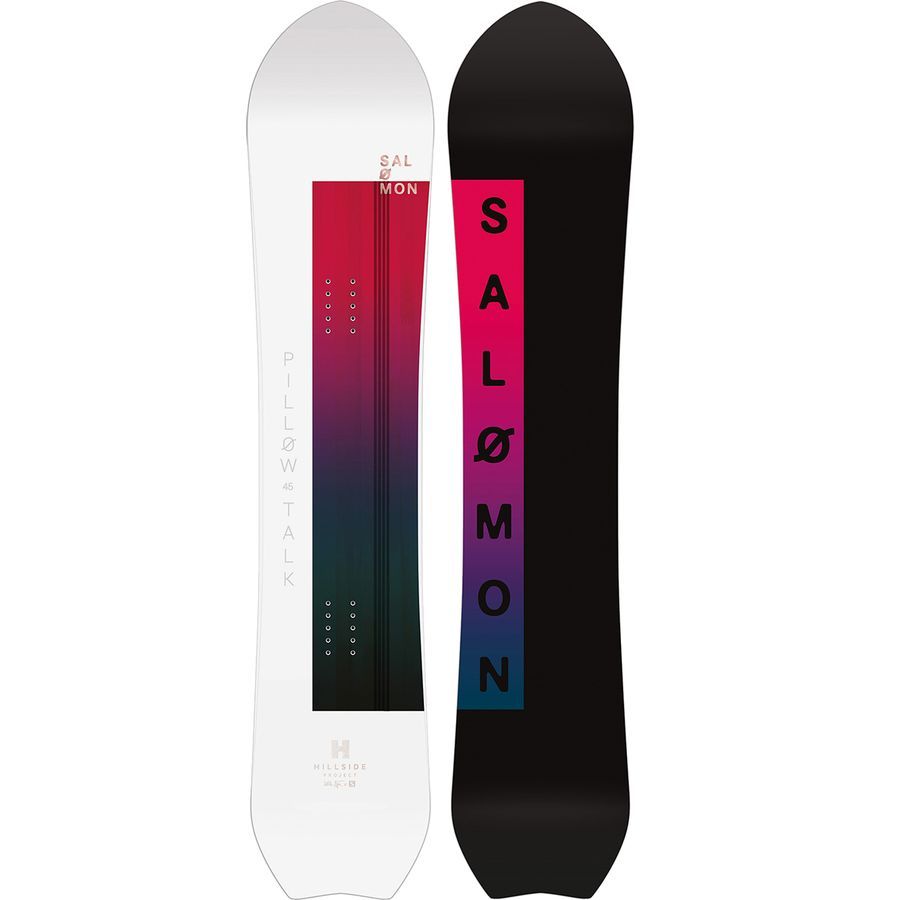 Salomon Pillow Talk Snowboard - Women's
This consistent winner in the women's big mountain/powder snowboard category has an amazing shape that makes it so fun in the powder.  The setback and shape of this board is clearly designed for the deep powder, but it is also versatile enough to ride around the mountain. It has the directional  rock out camber profile meant for float and control. The middle of the board is flat for stability, near your feet is camber for response, then the tip and tail extend to rocker for float. The board is a bit wider and shorter for a powerful and responsive set up. It has a medium flex perfect for pop and great edge to edge turns.
Just right for:  Big mountain riders who seek out the powder and steeps but would like to hit other parts of the mountain every once in a while. I would not recommend this board to beginners or anyone who doesn't prefer powder riding.
2020 Niche Ember
Our ambassadors are loving the super fun shape of mini swallowtails like the Niche Ember - this board carves like a dream, and floats powder like another dream.... basically it's dreamy.  A rocker nose and camber underfoot in the rear completely eliminates back leg burn, leaving you to slash to your heart's content.  Add in the eco-friendly construction, and we're sold!  SheShreds Founder Gina Duffy Says, "I can't believe how lightweight and nimble it is!"
Just Right For:  A rider who wants to hit the steep and deep - this board owns the powder and has the stability you need to tackle any aggressive terrain. 
2020 K2 Wildheart
This board has been on our top list for 4 years in a row now, and rightfully so. And it seems as if the graphics just keep getting better. Leanne Pelosi designed this versatile board to float in powder. It is short and nimble for that modern surf feeling. It's a directional camber baseline with camber between your feet and rocker on the tip and tail for extra float. It has a stiffer flex, and is very light and maneuverable.
Perfect for powder lovers but also people who want to play on other parts of the mountain as well.
Just right for: Riders who enjoy riding a powder and trees, and love a surfy feel to their snowboard. If you enjoy all aspects of the mountain and powder this board is great. 
2020 Arbor Cadence
2020 Gnu B Nice
The addition of Asymmetrical technology to Gnu's super fun B-Nice has made this long-running entry level park favorite even easier to turn.   This board's designers focused on creating an intuitive board feel that helps beginner through intermediate riders feel confident all over the mountain.  The soft flex make learning anything from your first turns to butters and presses easy and fun, and the camber pattern 
Tayler VanNosdall Says:
The B-Nice has really helped me to overall improve my riding, whether in the park or in the powder!
Just right for: A beginner to intermediate snowboarder looking to progress, especially those with an eye towards getting into the park at some point.  This is one of the best handling beginner boards for icy and hard-packed conditions, so if that's the norm at your home resort, consider this board as a top choice. 
2020 K2 First Lite
With a reliably affordable price point and a fun and versatile design, the K2 First Lite is a perfect board to learn on with little frustration. WIth a rocker baseline, it is a lot harder to catch your edge. Which means, less falling!! It's a very soft board which makes it more forgiving and playful once you start to progress. You'll love learning on this board. Crafted to help new shredders develop their skills quickly and as frustration-free as possible.
Just right for: A beginner snowboarder that wants a very forgiving yet playful board that doesn't cost an arm and a leg. Anyone who wants to fall on their bum as little as possible.
Leave a comment
Comments will be approved before showing up.